Bin/Pallet

Handling

Diverters - This pop-up wheel case-sorter will divert cases from a line shaft driven roller conveyor. Ten wheels set a 30o angle to the direction of flow and driven from the line shaft are lowered to clear the bottoms of cases that must stay on the main line and are raised by air to contact the bottoms of cases to be sorted. This diverter requires minimal gaps (about 6") between cases.

A similar diverter is offered for sorting cases from belt conveyors. Twist type diverters, which can handle small cases or cartons, can be made to divert to the right, left and center.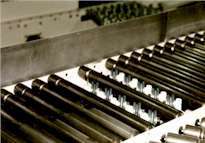 Warehousing & Distribution

We offer a complete line of ware-house control software and interfaces for the warehousing and distribution industries. If your warehouse is challenged with the problems of on-time, accurate, and complete order fulfillment.